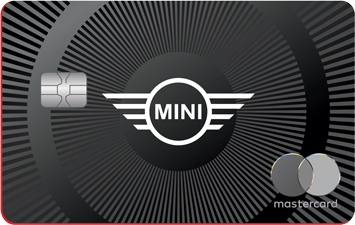 Mini Card
Learn how fast you can earn
Move the sliders below

Select your monthly spending

to see how quickly your MINI Reward Points add up!1
Estimate Monthly Spending
Every year you could earn 312,000 MINI Reward Points
Every year you could earn:
312,000
MINI Reward Points
Here's how you can redeem your MINI Reward Points:

MINI Rewards Card
Get 25% more value when you redeem points for a MINI Rewards Card. Use it for MINI service, accessories, lease end costs and more.2

Other Reward Options
Redeem for travel, merchandise, cash back and more.
Enjoy complimentary Mastercard benefits

including:

DoorDash
Get free delivery on your favorite flavors, reduced fees and exclusive offers with DashPass, the monthly subscription service from DoorDash. New members get 3 free months of membership. Plus, DashPass members get $5 off their first 2 orders per month.3

Shoprunner
Free ShopRunner membership. Members currently receive 2-day shipping and free return shipping at over a hundred online retailers.3
Important changes to merchant offers as described in your Guide to Benefits, effective April 1, 2021.
The onefinestay offer will expire and Hello Fresh and DoorDash offers will be available.
The Lyft offer will change to the following - cardholders can take 3 rides in a month and get a $5 Lyft credit, offer expires September 30, 2022.
The ShopRunner offer expires September 30, 2022.
For current offers and terms & conditions visit mastercard.us/worldoffers.